What are the best ways to get around in Thailand?
This article will show you in detail about Transportation Tips
on getting around Thailand from the real travelers and locals.
Bangkok Local Transport
Public transportations are quite cheap here.Local buses
cost 7-10 THB per trip, the Skytrain and Subway in Bangkok
cost 15-50 THB, and Metered taxi starts from 35 THB.
Metered Taxi
Here is the most popular way to get into town.The normal rate of taxi in Bangkok is started from 35 THB. (Metered taxi rides are usually 60-100 THB each).
The Meaning of Bangkok 's Multi-colored Taxis.
One color taxis ,Pink,Green,Red,Blue,Orange are owned by
the different company.
The two-color taxis ,Green-Yellow taxis are the private taxis
which are owned by the driver.
Anyway , In term of passengers ,Any colors are all the same.
If you want to go somewhere ,tell them you Destination.
I would recommend you to look at the condition and
choose a nice driver instead of looking at the colors.
If a driver refuses to use a meter and offer you a fixed price,
I recommend you to just say "Thank you" to him and then find another one.

The meters in some taxi tend to run faster than normal :
From the real Local 
Motorcycle Taxi
There are motorcycle taxis in Bangkok,Pattaya,and other many cites.
It can be hired for a short distance.Normally cost 20-100 THB.

How to ride a  Motorcycle Taxi
From Sukhumvit Road to Siam Paragon (100 THB)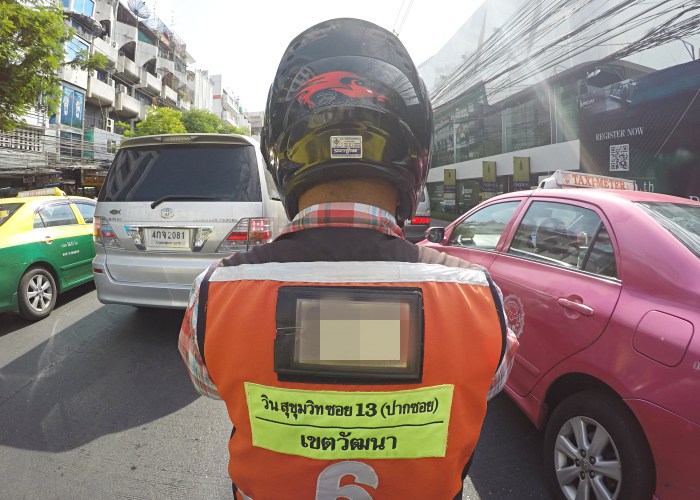 Tuk-Tuks Taxi
A three-wheeled taxi is another way of getting around Bangkok.
Since it does not have a meter, there are no fixed prices for Tuk-Tuks ,
all the price has to be negotiated. It might cost 60-200 THB for one ride
which is depended on the distance.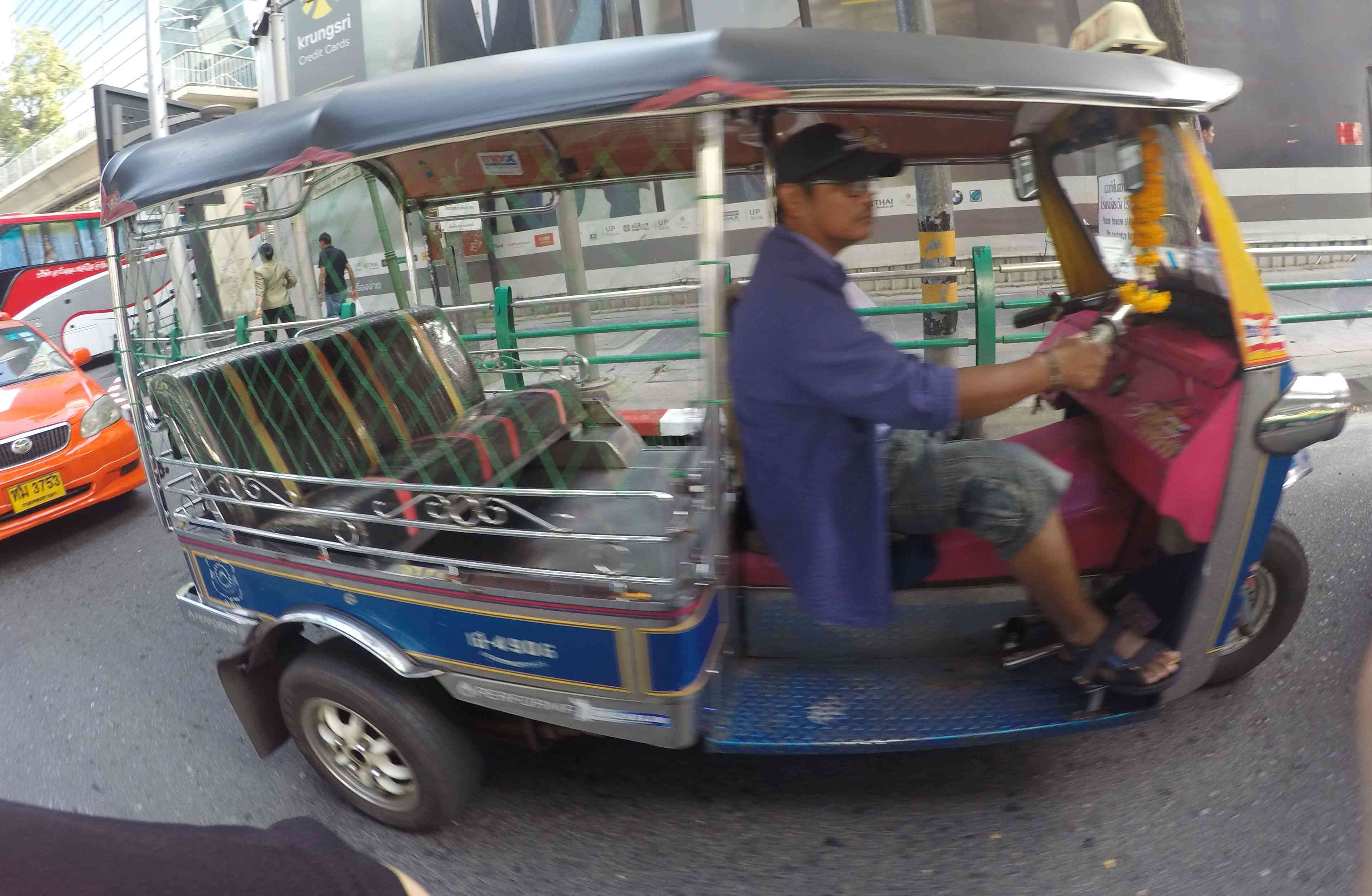 BTS Sky train
The bangkok skytrain system is commonly known as the BTS (รถไฟฟ้า บีทีเอส).
There are  3 Types of tickets which is depend on the length of your stay.
1) SINGLE JOURNEY TICKET
2) ONE-DAY PASS
Fare : 130 THB (Valid until midnight.)
3) RABBIT SMART CARD.
Issuing a new Card
– Deposit fee : 80 THB (not applicable)
Selecting your Plan A or B (Or both)
Plan A : Add Stored Value or Prepaid Rabbit Card can be used as a shopping and Traveling card on BTS and BRT. / The BTS Fare will be deducted according to the Fare table.-Plan B : Add Trip Plan15 Trips / 450 THB
25 Trips / 700 THB
40 Trips / 1040 THB
50 Trips / 1250 THBHow to use the BTS skytrain in Bangkok
MRT
MRT  (Subway transport system ), has 35 operational stations which operate around Bangkok
are and some of stations are connected to BTS .

How to take MRT in BANGKOK and how to buy MRT ticket
AIRPORT LINKS
Airport Rail Link  (รถไฟฟ้าเชื่อม ท่าอากาศยาน)  is the most cheapest and fastest way
to get into a city from Suvarnabhumi Airport.The Rail system is very convenient ,
its connected to BTS and MRT and run frequently almost every 30 mins
(from 6 am to  24.00 everyday)
It provides service between Phayathai station(A8) to Suvarnabhumi Airport(A1),
(Basement Floor) , which stops at 6 stations along the way.
How to take a Airport Train get into Bangkok (Airport Link)
Chao Phraya Boat
It's good tool for trip of Thailand。This cost is 20-200Baht.There is one day ticket.
You can go to Asiatique and some travel spot.
You can board this boat in Saphan Taksin BTS station.
You can show video How to board a boat in Thailand ⇒ How to Bangkok Chao Phraya River Trip by ship
You can chose Transportation in Thailand case by case.
Sponsored Link